The Elephant in Your Room
There are many topics in everyday life that we just won't talk about. Not that we don't need to talk about them, we just won't. We're avoiding the awkward, unpleasant, or confrontational. Everyone knows these things need to be addressed, discussed, and resolved.
Sometimes the topics are so big we wonder how we missed it. Other times, they started out small but have grown over time. However they got to where they are, it's become a serious problem. We've been clamping our eyes shut, hoping it would go away.
Suddenly there's no more space for denial. The problem is right in front of us, large and looming. When we force our eyes open, we see it ... There's an elephant in the room and it must be dealt with.
We could take a lesson from the child who pointed out that the emperor not only did not have NEW clothes, he, in fact, had NO clothes. Someone must be the brave soul...
If you're in this position and want to learn how to compassionately and directly address your elephant(s), let's chat.
I'm presenting on elephants and what to do about them at the 2021 TN SHRM Conference, in Nashville, TN, August 15-17. Unable to make it or interested in bringing this program to your organization? Let's chat!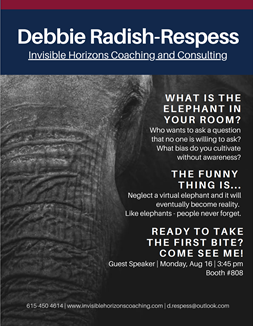 P.S. Book a Complimentary Strategy Session so we can get you moving in the right direction; click on my Complimentary Strategy Session calendar link here and let's book a time together so you can get started today!
P.P.S. With over three decades of professional experience in corporate operations and executive human resources, I am a proven results-driven leader. My expertise includes strategy, change management, talent management and organizational development, employee relations, and executive and leadership coaching. I am a highly effective communicator and team leader with proven ability to build long-term relationships across internal and external customer environments built with integrity, confidence, authenticity, and trust.