As we start to wrap up 🎁 2022... and put a bow 🎀 on this year's projects... I'd like to thank all of you who have supported
Invisible Horizons Coaching and Consulting
. 🙏
The new friendships, partnerships, and collaborations with fellow HR executives have been this year's highlights.
Your friends at
Invisible Horizons Coaching and Consulting
would like to send you off with a special holiday wish for peace ✌️, love 💗, protection ⛑, good health 🍎, and prosperity 📈 for you and your families!
2023 starts a new chapter for us. I'd love to invite you to join me and a few select HR Executives in one of our new Mastermind Programs.
Why do our members join... and why do they stay?
☑️ They're lonely... and feel isolated. They want to be around people that 'get' them.
☑️ They want to make better decisions. They question past decisions and worry about making the right future decisions.
☑️ They hate missing good opportunities. They know that things move and change quickly in the "people" business, but they're not fully plugged into a reliable source of information and inspiration.
☑️ They need a better quality of life. They are struggling with work-life chemistry.
☑️ They feel stuck... and frustrated. They want better results but don't have a great strategy and executable actions.
☑️ They want to become better leaders and Business Advisors. They're hungry to understand how to better lead and inspire others.
☑️ They seek accountability. They want someone that they admire, respect, and trust to hold their feet to the fire (and mentor professional growth).
☑️ They want to be a mentor to others.
☑️ They want to share their skills, lessons learned, experiences, and talents with others who want to make a difference.
See the overview of some of the terrific content and topics we discuss.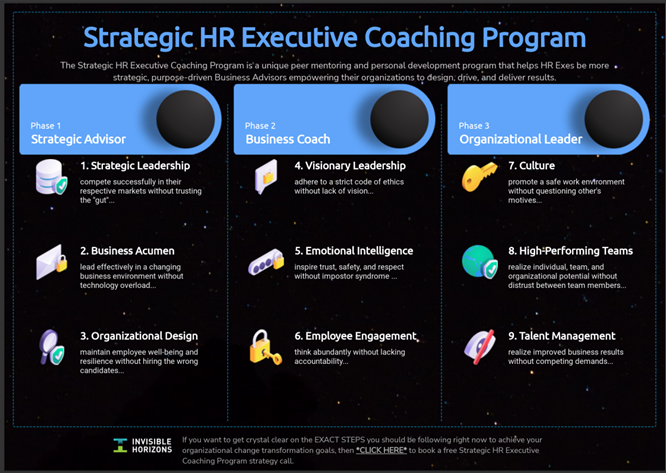 Let's chat if you're ready to become the Business Advisor to your CEO and C-suite colleagues.
From the Respess Family to Yours... We wish you a very Merry Christmas, a Wonderful Holiday Season, and a rocking New Year!