Brilliance in Leadership
I'm a woman who has worked in male-dominated industries, departments, and positions for most of my career. Although I started as a payroll administrator for a transportation company, I quickly grew into leadership roles, both at that first company and in subsequent new positions at other organizations.
What made me stand out was that I was unafraid to ask questions, look "silly", and engage in professional development. I LOVED to learn new things. I initially started my career sharing my brilliance (the characteristics that make me who I am and give me the ability to shine) in all that I did.
However, over time, with increased responsibilities, and through reporting into really poor managers, I lost my zeal and confidence. I ended up feeling a need for protection – and a need to hide my authenticity.
I became less and less like "me" and more and more robotic in how I engaged in the day-to-day functions of my job.
I put on my corporate armor as protection from those who thought, acted, and behaved differently from me. I put on my professional veneer to mask my anger, frustration, and overall disappointment in colleagues, peers, and executive leaders. I learned to be more like everyone else and failed to realize the toll it was having on my personal life, professional career, and my mental wellbeing.
This was not something that happened overnight. Nor did I have a traumatic experience that caused me to lose confidence. Rather, it was multiple experiences over time. Time does that. It can drag you down… And yet I've learned that it can be a great healer.
Fast forward to 2018 when I founded Invisible Horizons, where our work is centered around Transforming Tomorrow's Leaders, Today, which is the mission that drives me.
Leadership is an honor and a privilege, and my passion is serving those who work tirelessly to serve others through exceptional leadership.
In nearly every conversation I have with clients, prospects, and sponsors, I hear a similar story to the one that I shared above. Feelings of disappointment, frustration, overwhelm, burnout, and lack of support… and the fear of losing oneself.
I came across a recent social media post from a fellow woman executive:
I have a confession. I am typing this at 4:24 in the afternoon. A time when I am normally so engrossed in my work that nothing else crosses my mind. And yet, for the past few weeks, I have had a sinking feeling in the pit of my stomach, reducing my typical superpower - focus.
The "sinking feeling in the pit of my stomach, reducing my typical superpower" struck a chord with me.
That sums up the overwhelming feedback of how women are feeling.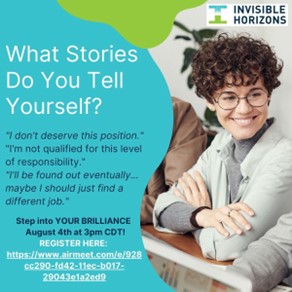 Women leaders bring a special type of brilliance to organizations.
Bring your brilliance and all the wonderful chaos, beauty, and mess that makes up "you", to our "Step Into Your Brilliance" webinar on August 4, 2022 at 3:00 p.m. CDT. (or register here: https://www.airmeet.com/e/928cc290-fd42-11ec-b017-29043e1a2ed9)
You won't be disappointed.
Want to build the right culture with the right people? You can start by looking at your employee base, how you recruit, hire, onboard, and retain: click here to hire intentionally (click the "start for free" icon to get started).
Employees already rock it and you're ready to take your team to the next level? Click here to build (and grow) your team intentionally.
P.S. Book a Complimentary Strategy Session so we can get you moving in the right direction; click on my Complimentary Strategy Session calendar link here and let's book a time together so you can get started today!
P.P. S. With over three decades of professional experience in corporate operations and executive human resources, I am a proven results-driven leader. My expertise includes strategy, change management, talent management and organizational development, employee relations, and executive and leadership coaching. I am a highly effective communicator and team leader with demonstrated ability to build long-term relationships across internal and external customer environments built with integrity, confidence, authenticity, and trust.