Hey Debbie, whether you're in Human Resources, are an executive, or a CEO/Business Owner - consider how this information will impact your business - now and in the future.
Being a strategic HR leader has changed significantly over the last few years, propelled in part by a global pandemic that changed the course of business.
Recruiting changed radically due to the "work-from-anywhere" work environment.
Many of my colleagues literally moved from a long-term residence to a new city and state because it had been proven we could work from just about anywhere.
There are exceptions to the rule, but many professional positions don't require in-office presence.
Additionally, with the advent of AI and other technological breakthroughs, onboarding also changed substantially.
Anyone, anywhere, could now onboard a new employee efficiently and effectively.
Zoom or Teams (or other video conferencing platforms) provided a means of "live" team meetings, even when team members were scattered throughout, dare I say, the world.
The list goes on regarding the change in our work environment and the way we all conduct business.
But what's next?
How does Human Resources prepare for the next best thing?
Strategic Planning.
It's that time of the year and many businesses are in the throes of planning their next year's initiatives and budgets.
Where is HR in YOUR process?
If not right next to the CEO, with a voice at the table, then "people" really don't matter in your organization.
I know.
That's pretty direct. And maybe even controversial. But is it? Really?
Many organizations tout that their "people are their greatest asset," while the HR executive is not involved with or engaged in the strategic conversations and is not a decision-maker.
Here's the first step that all HR Executives must take when considering their seat and voice at the table.
Intentionality is key.
GartnerTM has outlined a 5-step process for strategic planning – specifically for HR leaders.
Step #1: Prepare for HR Strategic Planning
Ask these two questions before moving on to the following steps (which I'll share in the coming days):
Have you identified the key stakeholders who need to be involved in the HR strategic planning process?
Have you aligned your corporate strategic planning process with your HR strategy planning process?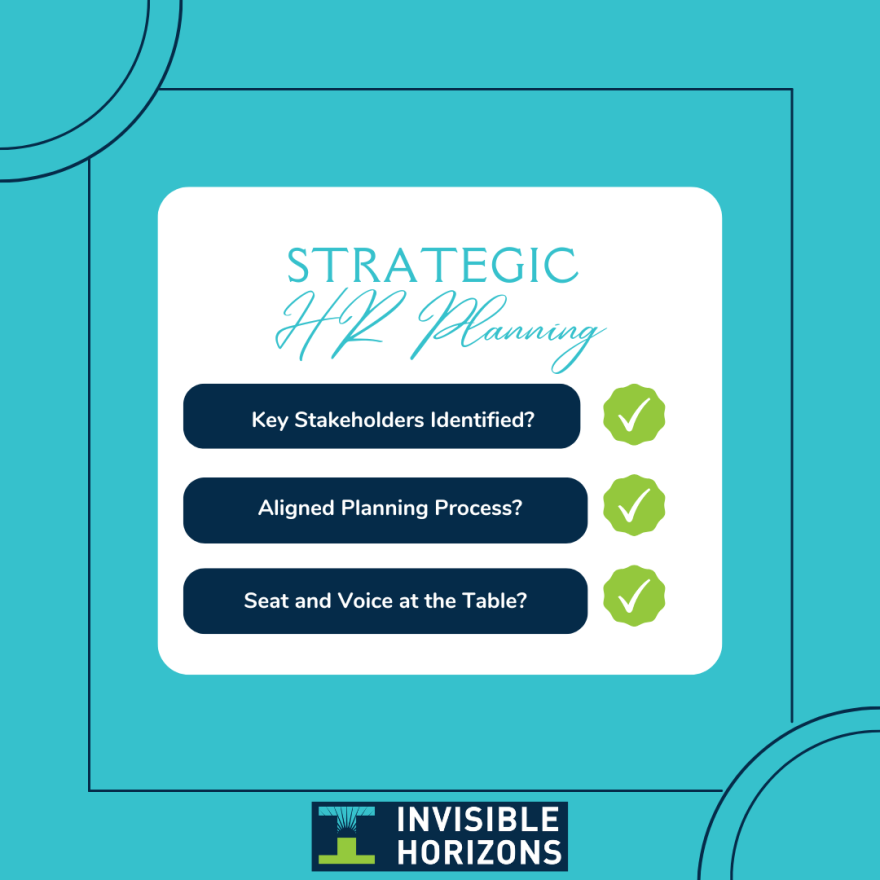 If you don't answer "yes" to both of these, your overall business strategic plan will likely be less than successful.
The "People" strategy must be a part of the overall business strategy.
Despite the technological advances we've seen – and continue to see – "people" are what make things happen.
Hey – HR Executives – do you have a seat at the table?
Is your voice sought after, considered, and heard?
Are you the go-to person for your CEO?
If you're not, let's chat. I've successfully helped many HR leaders rise to the level of their potential and gain a trusted and respected spot next to the CEO.
Let's find your voice and build your own "strategic plan" to be your CEO's strategic business partner.
In Service,
Debbie