It's Thanksgiving week in the U.S.

This (typically) means it's a week of hustle and bustle as families get ready for large meals, football, and... wait for it...

🛍 Black Friday Shopping! (does anyone do this anymore?)

But I prefer to 🛑... and ask my clients to pause and consider what they are most grateful for.

Many automatically respond with:

❣️ My Spouse
❣️ My Family
❣️ My Dog, Cat, Bird, Fish, Snake (etc.)
❣️ Working from home
❣️ Taking a few days off
❣️ Getting to see family and friends (they haven't seen in a long time)

Great, but standard, responses. 👍

I like digging a little deeper.
Consider who and what you're most GRATEFUL for,
WHY you're grateful;
and decide how you want to SHOW it.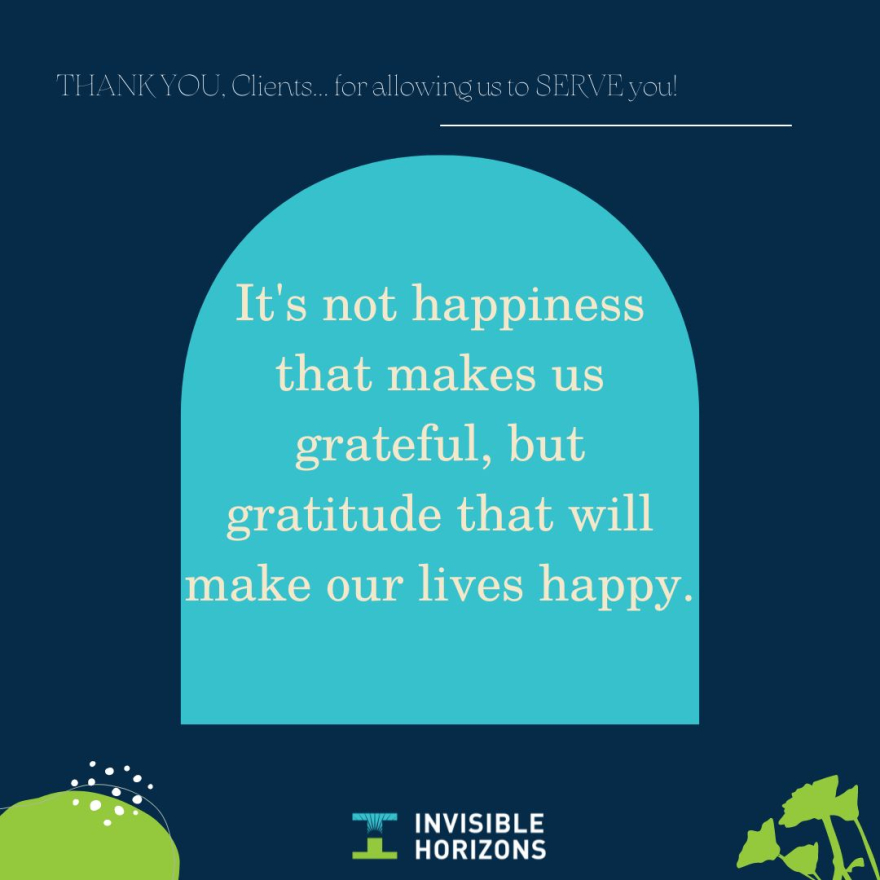 Here are a few ideas on how to SHOW your gratitude:

✅ Choose your battles. As you go into the holiday season, learn to LISTEN first - with the intent to understand - before responding.
✅ Stand firm on at least 2 values that you will not compromise. This shows CHARACTER and provides a firm foundation on which to stand.
✅ Thank "doubt" ... and step toward POSSIBILITIES. You'll learn, you'll have a great story to tell, and you'll prove to yourself that fear of the unknown will not hold you back!
✅ Consider your own BIASES, first. Not everything you tell yourself - i.e., those stories in your head - are factual.
✅ Be CONFIDENT... and give someone else a reason to be confident too. Build them up with kind and encouraging words.
✅ Be PRESENT. Not just in conversations, but in the room. It says: I see you. I hear you. I am interested in you. I feel you. And I respect you.

What are YOU most grateful for?