Hey Debbie,
I wasn't thinking about what day it was when I opened my eyes at 6:00 a.m.
I was concerned about the weather.
A 550-mile drive was ahead of me as I traveled home to Tennessee from Wisconsin, and the weather folks had predicted rain the whole way.
I quickly packed up the car, hugged and said "I love you" to my sister, and headed out.
The rain started less than 30 minutes into the drive and continued on and off throughout the day. I was braced for a tiresome drive.
Then …
I began to notice billboards here and there that read "11EVER FORGET".
It dawned on me that it was September 11.
A day that NO ONE should ever forget.
Not only because of the loss. Though the loss was great. So great that, over 20 years later, our hearts still ache.
We should remember because of the UNITY we saw, and FELT, on that day, the following days, the subsequent months, and into the years following that fateful day.
As I drove down Interstate 65, I was amazed to see on overpass after overpass – in Illinois, Indiana, and Kentucky – people lined up waving flags and holding "Never Forget" signs.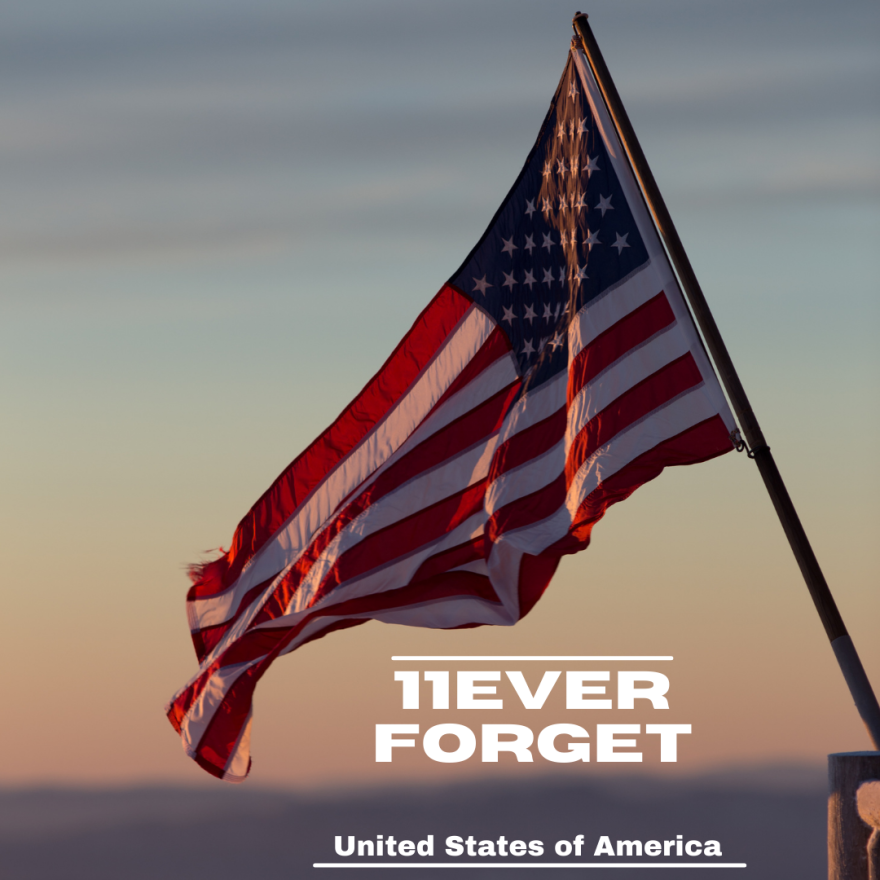 The flags were AMERICAN. They stood for the UNITED STATES of AMERICA.
And I was once again proud to be an American… a citizen of this country. And I was so grateful to see the patriots who weathered the rain and wind to honor and remember a horrific, yet unifying, day in our country's history, just 21 years earlier.
And here's what I thought.
Our entire NATION gathered as one.
America has one mission and vision, which is written in our Constitution:
We the People of the United States, in Order to form a more perfect Union, establish Justice, ensure domestic Tranquility, provide for the common defense, promote the general Welfare, and secure the Blessings of Liberty to ourselves and our Posterity…
Thomas Jefferson, the 3rd President of the United States, succinctly stated our Nation's values:
We hold these truths to be self-evident: that all men are created equal; that they are endowed by their Creator with certain unalienable rights; that among these are life, liberty, and the pursuit of happiness.
As I pondered the hearts and minds of the men and women who once again stood united on these bridges waving to passersby, proudly holding our Country's flag, I was taken aback at how far we've drifted from the most important word in this Country's title: United.
I initially intended this post to be about companies – their mission, vision, and values – and I may post a follow-up with my thoughts on that.
But today, this month, and as we go hurriedly into the fourth quarter of 2022, may we stop to think about what it means to be "united".
Whether you're an American citizen or not, we are all one human race.
Yes, we are different. Each of us is unique, creative, innovative; we have different perspectives, upbringings, heritages, ethnicities, and family histories.
AND we are all human.
I remember the photos of that fateful day in 2001. The ones where the people were covered in ash. Other than body size and height, they were just humans helping others in need. These folks showed up with intention and used their talents and gifts to help their fellow man, woman, and child.
The greatest lesson I learned from that day in 2001 is that when we treat our fellow man with RESPECT, everything else can fall into place.
We respected our fellow humans on that day – regardless of our differences.
We respected the United States of America and what it stood for.
And we respected ourselves, individually, by being selfless.
It was about others on that day. I pray that we can bring this outward-focused respect back into our lives – equal to or greater than – what we showed as a united nation on September 11, 2001.
What thoughts would you like to share with me?