---
Hey – Strategic HR Practitioners and Executive Leaders!



I have been working on a pretty exciting project that might be of value to YOU, or someone you know.

It's specifically designed for HUMAN RESOURCE EXECUTIVES...

It's called the STRATEGIC HR EXECUTIVE COACHING PROGRAM...



... it's a unique peer mentoring and personal development program that helps VPHRs, CHROs, and Strategic HR Practitioners be more

strategic, purpose-driven Business Advisors

without frustration, comprehensive business acumen, or an ability to build a culture that scales

so they can empower their organization to design, drive, and deliver results.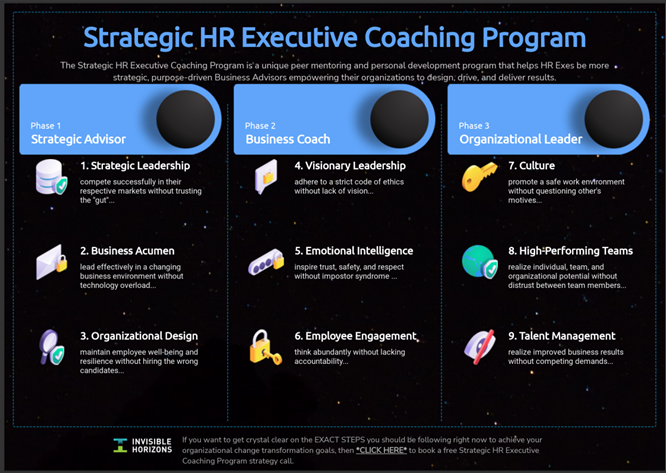 If you are
open and interested
in the
possibility of being one of our selected 2023 members
, schedule a time to speak with one of our team members:
https://lnkd.in/dJBuhwx2
Spots are going quickly... don't delay in setting up a 30-minute information call.

If this isn't something for you... would you do me a favor and please share this with your business colleagues, CEOs, and other executive leaders who may know an HR colleague?

If not, no worries. Keep on being awesome!

In Service,
Debbie
---